10 Best Dog Friendly Restaurants in Toledo, Ohio
Ribs. Brisket. Mac and cheese. Seafood. Beans. Slaw. Sweet tea. Toledo, Ohio, is a melting pot of everything good from culture, history, good food, and liberal ideals. Whether you are looking for a place to unwind with a few drinks with friends, a romantic date night spot, or a top-notch breakfast joint, Toledo has plenty of amazing restaurants, cafes, and bars. As a dog owner, it's heartbreaking to go out for a bite or a beer and leave your pup at home. Luckily, Toledo is quickly becoming popular as a forward-thinking, progressive area, with one of the main topics of discussion being adopting pet-friendly policies and establishments. As a result, the city is quickly transforming into a pet-owners paradise. There are plenty of places with spacious patios that are welcoming to dogs and other pets. Some even put out bowls of water and treats so your dog has their own dining experience as you enjoy your food and drinks. So, next time you are on a walk with your furry friend, here are the best dog-friendly restaurants in Toledo, Ohio, you can quickly pop into for a bite.
Ye Olde Durty Bird 
Ye Olde Durty Bird is one of the best dog-friendly restaurants in Toledo, Ohio. It has been rated among Toledo's best gastropub restaurants. This popular establishment specializes in hearty bar food, including wings, sandwiches, sliders, steaks, and burgers. They have a large outdoor patio where your dog can lounge as you enjoy great food and live music.
Pita Pit
Nelson Lang, the founder of Pita Pit, made the first pita in 1995 in Ontario, Canada. His vision was to provide a healthy alternative to fast food joints. The "fresh thinking" concept was such a success that he established multiple franchises in Canada starting in 1997 before venturing into the United States market in 1999. Pita Pit USA, Inc. was finally established in 2005. Today, there are over 200 Pita Pit restaurants in multiple states across the US. Featuring classic menu choices like buffalo chicken pita, souvlaki, gyro, and a fantastic collection of artisan pitas, the Pita Pit restaurant in Toledo is a great place to stop for a bite with your furry best friend.
The Flying Joe
The Flying Joe was established in 2007 at 215 North Summit St, Toledo. It is one of Toledo's best caffeinated thirst-quencher spots. Here you can enjoy everything from live bands to tastings. The Flying Joe is heavily focused on education and experience, ensuring that every occasion is an adventure you'll want to recreate again and again. On top of that, they are open to allowing pet owners to bring their pets along.
Swig
Swig is a fun and unique bar hosting some of the most talented musical guests. The establishment has been running for almost a decade and has become a popular spot among locals. Enjoy their homemade sausages, gourmet appetizers, hand-crafted sauces, and chocolate-covered sundae. The best thing about Swig is that they have an open-door policy that allows pet owners to tag along with their pets for an unforgettable dining experience.
Tim Hortons
Located at Reynolds Rd, Toledo, Tim Hortons has its roots in Canada but has multiple locations across the United States. Here, you can indulge in their legendary coffee, plus delicious lunch plates. The Toledo location has dog-friendly seating, with tables on the outdoor patio. Feel free to order from their extensive menu that includes hash browns, breakfast wraps, sandwiches, flavor-filled donuts, and light oatmeal bowls. Their lunch options include wraps, paninis, and bowls of comfort food like Homestyle Chili.
Hamburger Mary's
Hamburger Mary's is a popular LGBTQ-friendly bar and eatery that also serves as a dog-friendly restaurant in Toledo, Ohio. The establishment features entertainment like their famous 'Dining with the Divas' drag shows. Their menu options include flatbread pizzas, burgers, sliders, sandwiches, appetizers, salads, soups, and more. Your dog is welcome to join you at one of the outdoor pet-friendly tables while you enjoy your evening.
Cousino's Steakhouse
The Cousino's Steakhouse is located in the southeast area of Toledo. It is a popular spot when you want to indulge in perfectly cooked steaks, burgers, and seafood. That coupled with their sensational sides and "sharables," your night out with your pup will be a night you will want to re-live again.
Maumee Bay Brew Pub 
Maumee Bay Brew Pub is a popular pet-friendly restaurant and bar serving locals and visitors in the Toledo area. Enjoy giant soft pretzels and dips, onion rings, potato skins, burgers, wood-fired pizza, and a classic salad with an ice-cold beer.
Kobe Bay
Kobe Bay is a dog-friendly waterfront restaurant located on the banks of the Maumee River. Your dog is welcome to join you at one of the outdoor tables in the large open seating area. The restaurant offers a fusion of different cuisines, including Asian delicacies, seafood, and barbecue dishes. Kobe Bay's weekend specials, like their Georgia pulled pork sandwiches or seafood boils, make weekends even more fun.
Handel's Homemade Ice Cream & Yogurt
Located at 5908 W Sylvania Ave, Toledo, OH, Handel's Homemade Ice Cream & Yogurt serves up freshly made creamy treats. Your dog is welcome to join you at one of their pet-friendly tables as you indulge in the delicious treats. You can choose from various decadent flavors: butter toffee, bananas foster, cinnamon sticky bun, praline pecan, maple walnut, peanut butter, jelly, or thin mint. If that doesn't do it for you, then maybe a large scoop of homemade rich, gourmet chocolate-covered ice cream will.
What To Do Before You Take Your Dog to a Dog-Friendly Restaurant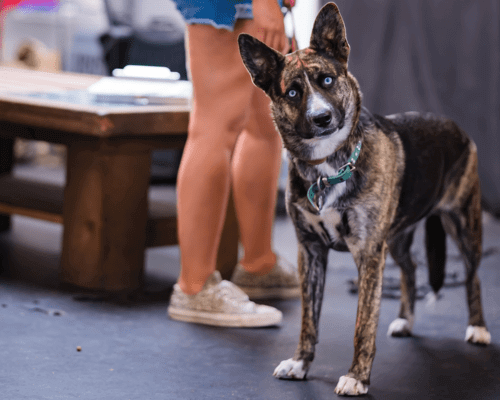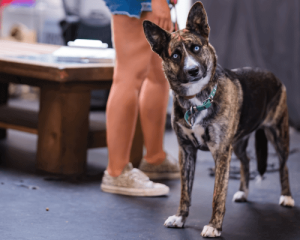 Pet ownership in the United States has grown over the years. Today about 90.5 million families across the US own pets, which has seen more and more pet owners bring their pets along to share in their everyday experiences outside their homes. Because of that, cities and lawmakers have had to adjust the laws. Today, the rules and city ordinances regarding where one can take their pet vary, which has led to an increase in pet-friendly establishments like hotels and restaurants.
Even so, it's your responsibility as the dog owner to ensure that your dog can comfortably dine with you at the various pet-friendly restaurants in your area. Toledo has its fair share of dog-friendly restaurants, as you have seen. Most of them will allow your dog to accompany you as long as you stick to the outdoor dining areas. However, there are a few things you must bear in mind when preparing to bring your pup to your favorite eatery.
First, before you take your dog anywhere, some basic training is required. Responsible pet ownership is about training your pup to handle situations outside your home. The sooner you teach your dog manners, the better it will be for you when you go out for a bite with them. Second, ensure that your dog is well-socialized before you bring them to one of the dog-friendly restaurants in Toledo. Dogs who are fearful of strangers, other dogs, and loud noises should only be brought to restaurants once they are properly socialized.
You want your pup to feel comfortable regardless of the environment. At the same time, dogs who tend to jump on tables or people or who bark excessively may end up disrupting other patrons' dining. Lastly, you must ensure that your pup can stay calm regardless of what is happening around them. Restaurants have so many activities going on. So, the question to ask yourself before you step out of the door with your dog is whether they can handle distractions.
Fortunately, you don't have to carry the burden of training your dog alone. Off Leash K9 Training of Toledo is your best bet to ensure that your dog is trained in basic obedience, how to handle distractions, and aggression issues. Our Toledo Dog Trainers are part of the highest-rated dog training community in the US. We specialize in dog behavior consultations, private lessons, and teaching dog owners how to understand their pets better. Our packages include basic and advanced obedience training, aggression and anxiety training, and puppy training consultation.
With Off Leash K9 Training of Toledo, your dog will be trained to have a similar level of obedience as police and military working dogs. All our training is done off-leash and with distractions, giving your pup the best possible chance of being in a position to handle all types of situations and environments. Enroll your dog in one of our training programs, and you never again have to dread taking them to one of the dog-friendly restaurants in Toledo.