7 Best Dog-Friendly Stores in Toledo, Ohio
Are you looking for dog-friendly stores in Toledo that will allow you to shop with your dog? For a long time, most establishments you would visit would have a "No Dogs Except Service Dogs Allowed" sign in the front window or its variation. There were a few exceptions, mostly pet stores, and small, family-owned businesses. Fast forward to today. Pet ownership in the U.S. has increased, making businesses adjust their policies to accommodate the increasing number of pet owners. Gone are the days when you had to leave your canine companion at home whenever you wanted to grab a bite or shop. Now more and more stores are adopting dog-friendly policies. Here are the best dog-friendly stores in Toledo, Ohio, if you want to shop with your furry best friend.
Schramm's Flowers & Gifts 
Schramm's Flowers & Gifts was established in 1872 and has diligently served the Toledo area since then. The family-owned and operated flowers and gift shop offers the finest floral arrangements and gifts with friendly and prompt service. The professional staff ensures your experience is as pleasant as possible by going the extra mile to make your floral gift perfect. On top of that, the store allows dog owners to tag along with their beloved pets.
Lambertville Do It Best Hardware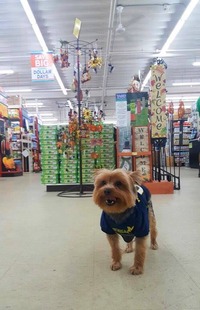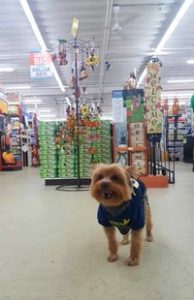 The Oswald Family has owned Lambertville Hardware since the 1970s. They're one of our all-time favorite dog-friendly stores in Toledo. The shop, which started as a small 1,000-square-foot store, has undergone many changes and is now a 20,000-square-foot hardware. The store's knowledgeable staff are committed to providing outstanding service to everyone who comes through the door. The store is pet-friendly, and your furry best friend can join you as you peruse the aisles of garden supplies, BBQs, and tools.
Hoen's Garden Center & Landscaping 
Hoen's Garden Center & Landscaping is another dog-friendly store in Toledo-Ohio. The family-owned garden center and full-service landscaping enterprise offers various annuals, perennials, shrubs, trees, miniatures and pottery. Hoen's Garden Center & Landscaping takes great pride in its enormous variety of potted flowers, hanging baskets, and custom potted containers. Leashed and well-behaved pups are welcome to peruse the aisles with you.
T.J. Maxx
The nationwide clothing retailer is located in Holland, OH. T.J. Maxx has a dog-friendly policy where leashed dogs and pups small enough to sit in a shopping cart can accompany their owners into the store. Browse the aisles for a wide selection of brand-name apparel, accessories, homeware, shoes, and more.
Gathering Volumes
Gathering Volumes is a family-owned, community-based, independent bookstore serving the Perrysburg, OH area. All the books on the shelf are carefully and personally chosen by Perrysburg buyers based on customer feedback. Gathering Volumes is the place to be when you want to meet up with friends or spend a few hours surrounded by great books. The store even has a dog-friendly policy for dog owners who want to enjoy a good read in the company of their furry friend.
Handmade Toledo
Handmade Toledo is a creative multipurpose space featuring a handmade maker shop and a workshop space for all sorts of handmade, make-and-take classes, gallery space, and maker studio spaces. The store also doubles up as an event space for art-related events, allowing makers and artists to be part of a like-minded, inspiring community. Dog owners can bring their canine sidekicks.
Fresh Thyme Market
Fresh Thyme Market was established in 2012 to improve how communities eat by offering healthy and fresh food at an amazing value. The grocery store and natural food marketplace provide healthy food options with an atmosphere reminiscent of a local farmer's market. The store is committed to offering Clean Label products free from flavors, artificial colorings, and preservatives. They carry items catering to various consumers from vegan, keto, paleo, vegetarian, and wheat-and gluten-free diets. You're welcome to browse the healthy food options with your dog since the grocery store has a dog-friendly policy. This definitely a fan-favorite when it comes to dog-friendly stores in Toledo.
What to Consider When Looking for Dog-Friendly Stores in Toledo  
Shopping with your canine buddy at a dog-friendly store can be an unforgettable experience for both of you. However, you must consider some things before putting your pup on a leash and dragging them to a nearby store.
Taking your dog into places where there are lots of people for the first time can be a scary experience for them. From your dog's point of view, the store is full of strangers, lots of activities, new smells, distractions, and unfamiliar noises, not to mention all the strangers who want to pet him.
Your dog must be well-trained to handle such situations. If our dog is fearful and shows signs of anxiety, it can be a terrible shopping experience for you. At the same time, if your dog barks excessively, pulls on their leash, knocks things over, and isn't potty trained, it will be an awful experience for the rest of the people.
If that's the case, you need to consider professional dog training. A professional dog trainer will work with your dog to eliminate problem behaviors that may make it difficult to take your pup to places where they might meet strangers and other dogs. Off Leash K9 Training of Toledo is the best dog training company in Toledo, Ohio, specializing in high-level, precision obedience training under distraction.
Our training offers you and your pup exceptional obedience that allows you to bring them anywhere with you, be it a noisy restaurant or a crowded store. We offer a 4-week basic obedience training program to teach your dog basic commands and an 8-week advanced obedience training course that goes beyond basic commands. We also offer aggression and anxiety training for dogs that react aggressively toward strangers or other dogs. 
Besides that, we have an immersive one-week and two-week board and train program where your dog boards with a pro trainer for a few weeks to modify bad behavior. Since all our training is off-leash and under distraction, you're guaranteed a 100% obedient, 100% off-leash, and 100% distraction-proof pup, regardless of your dog's size, breed, and age.